By diving into the underground cinema of the Modernissimo, dug in 1914 in the bowels of Bologna and then abandoned in the 2000s, this film tells the story of an emblematic Italian city in the manner of an amateur film.
Running time: 55 minutes
© Kolam – Cineteca di Bologna – 2022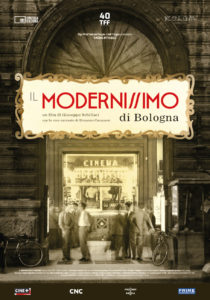 BEST FILM Prize at PRIMED of Marseille 2022
Category: Arte, Patrimonio e Cultura.
Official Selection : TURIN FILM FESTIVAL, TRACES DE VIE (Clermont Ferrand).
Official archives of Bologna in the 20th century are intertwined with the personal archives of the protagonist, a father who speaks to his long-lost son. He dedicates this handmade film to him. Between his unfulfilled dreams as a revolutionary and as a filmmaker, this father retraces the family history inhabited by ghosts, and invites his son to Bologna for the reopening of the Modernissimo, the mythical theatre of a lifetime.
Writing & Directing: Giuseppe Schillaci
Editing: Felice d'Agostino
DOP: Tommaso Lusena de Sarmiento
Original Music: Béatrice Thiriet & Gian Luca Cangemi
Voice over: Ermanno Cavazzoni
Production : Olga Prud'homme Farges & Gianluca Farinelli
Associated Producers : Joël Farges & Francesca Andreoli
Coproduced by la Cineteca di Bologna
Wuthe the participation of Ciné+ (Bruno Deloye)
Funded by CNC, de la Procirep-Angoa
https://www.mymovies.it/film/2022/il-modernissimo-di-bologna/