←
→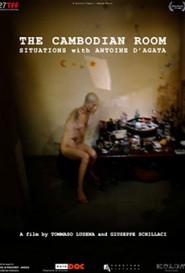 The Cambodian Room (2009)
Antoine D'Agata, a photographer from Magnum Agency, is in Phom Penh (Cambodia). Drugs, sex and errance are his autobiographical subjects, but in Cambodia his artistic trail seems to reach an utmost point.
After devoting his art to picture desolated landscapes and borderline realities all around the world, Antoine D'Agata focuses his art on body and flesh, in a narrow room.
In Cambodia he spends many weeks locked in Lee's room. Antoine lives a kind of desperate and paradoxal « love story »  with Lee, a prostitute, smoking dope and trying to take pictures of his intimate relationship with her.
This film catches the hidden part of his art-life; his choice of living sex and drugs as both cure and conviction. An apocalyptic and sublime course, similar to the ones of other heretic artists of contemporary culture, from Kerouac to Artaud, from Bacon to Pasolini.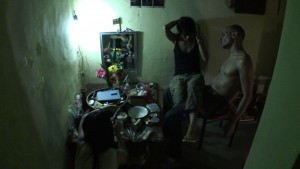 CREDITS
Written, edited and directed by: TOMMASO LUSENA, GIUSEPPE SCHILLACI. Produced by: VIVIANA QUEIROLO BERTOGLIO, OLGA PRUD'HOMME FARGES, TOMMASO LUSENA DE SARMIENTO, GIUSEPPE SCHILLACI. Featuring: ANTOINE D'AGATA, LEE, PHILIPPE AZOURY. Line producer: GIUSEPPE SCHILLACI. Cinematographer: TOMMASO LUSENA DE SARMIENTO. Original music: NICOLA TESCARI, CHRIS TSOUPAS. Additional camera: GIUSEPPE SCHILLACI. Sound: SEAR VISSAL. Assistant editing and post-production: MASSIMILIANO MINISSALE. Sound design: RICCARDO SPAGNOL. Color correction: ERCOLE COSMI. Translations: Peter Henderson, Kamala Gravagna, Sok Michaël. Press:Lionella Bianca Fiorillo www.storyfinders.it. Accounting: Rossella Procaccino. Graphic designer: Alessia Mastriforti. An Italian French co-production: DOWNTOWN PICTURES / KOLAM PRODUCTIONS with the support of Cnc and Procirep-Angoa. http://www.kolam.fr/home_en.php Developed with EURODOC (http://www.eurodoc-net.com/en/).
SPECIAL PRIZE of the JURY, Torino Film Festival 2009
International Premiere at IDFA (International Documentary Festival of Amsterdam) 2009
Ufficial selection EURODOC SCREENINGS 2010
AUDIENCE PRIZE at Festival Point Doc 2011
Doc/It Professional Award 2010
PRIX BEST PHOTOGRAPHY CINEMA DOC 2010
PRIX BEST EDITING CINEMA DOC 2010
PRIX BEST FILM CINECITTA' LUCE 2010
ON THE AIR on ARTE (France/Germany) with 5% share (2011)
 dvd published by CONTRASTO and CINECITTA' LUCE (2012)
dvd re published by Collection Opus (France) nel 2018
TRAILER
[youtube]http://www.youtube.com/watch?v=9hBN_1YWyOs[/youtube]
Una co-produzione Italia Francia
An Italian French co-production
DOWNTOWN PICTURES
KOLAM PRODUCTIONS
with the support of Cnc and Procirep-Angoa
con il contributo di
written, edited and directed by
TOMMASO LUSENA DE SARMIENTO
GIUSEPPE SCHILLACI
—
produced by
VIVIANA QUEIROLO BERTOGLIO
OLGA PRUD'HOMME FARGES
TOMMASO LUSENA DE SARMIENTO
GIUSEPPE SCHILLACI
—
With (con)
ANTOINE D'AGATA
LEE
PHILIPPE AZOURY
—
line producer (produttore esecutivo)
GIUSEPPE SCHILLACI
—
cinematographer
TOMMASO LUSENA DE SARMIENTO
—
original music
NICOLA TESCARI
CHRIS TSOUPAS
—
additional camera
GIUSEPPE SCHILLACI
sound
SEAR VISSAL
—
assistant editing and
post-production
MASSIMILIANO MINISSALE
—
sound design
RICCARDO SPAGNOL
—
Color correction
ERCOLE COSMI
—
Translations
Peter Henderson
Kamala Gravagna
Sok Michaël
Ufficio Stampa
Lionella Bianca Fiorillo
www.storyfinders.it
—
Amministrazione
Rossella Procaccini
Graphic designer
Alessia Mastriforti
© Downtown Pictures / Kolam Productions 2009